Sitemiz henüz test yayınındadır. Her gün geliştirilmektedir. Şu an çalışmayan özellikler için anlayışınıza sığınmaktayız.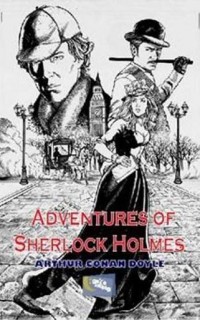 | | |
| --- | --- |
| ISBN | 9786053241485 |
| Yayınevi | Gece Kitaplığı Yayınları |
| Yazarlar | Arthur Conan Doyle (author) |
| Kitap Tanıtımı | The Adventures of Sherlock Holmes is a collection of twelve stories by Arthur Conan Doyle, featuring his famous detective. These are the first of the Sherlock Holmes short stories, originally published as single stories in the Strand Magazine from July 1891 to June 1892. A series of mysteries are solved by detective Sherlock Holmes. A Colonel dies after receiving seeds in the mail, a young bride disappears, a jewel is stolen and a son is accused of this father`s murder. After our narrator Dr. John Watson gets married (to Mary Morstan, in Conan Doyle`s second Sherlock Holmes novel, The Sign of Four) he doesn`t see Holmes quite as often as he used to. As Watson sets up a happy home with his wife, Holmes remains as weird as ever, hanging around their old place in Baker Street and alternating between cocaine and criminal cases. Holmes finally comes out and asks if Watson can even recall the number of stairs that lead up to the 221B Baker Street apartment, and Watson admits that he cannot. "Ah ha!" crows.. |
Kitapseverlerin sosyal ağı neokuyorsun.com yenilenen altyapısı ile tekrar aranızda.

tarsmedia tarafından geliştirilmektedir.